Bing.com is one of the top search engines. The company has created a Local Business Directory listing service similar to Google Local Business pages that you can claim and optimize for your church.
This not only helps your church get found in the Bing Places local search directory, but also in the actual Bing and Google search engines. It is definitely worth the time and effort to claim your listing in this local business directory. Follow the steps below to claim and optimize your Bing Places listing.
Steps to Claiming your Church Bing Places Listing
---
1 - Create or Login to your Free Windows Live account for your church at https://login.live.com Make sure you have completed setting up this account before proceeding to Step 2.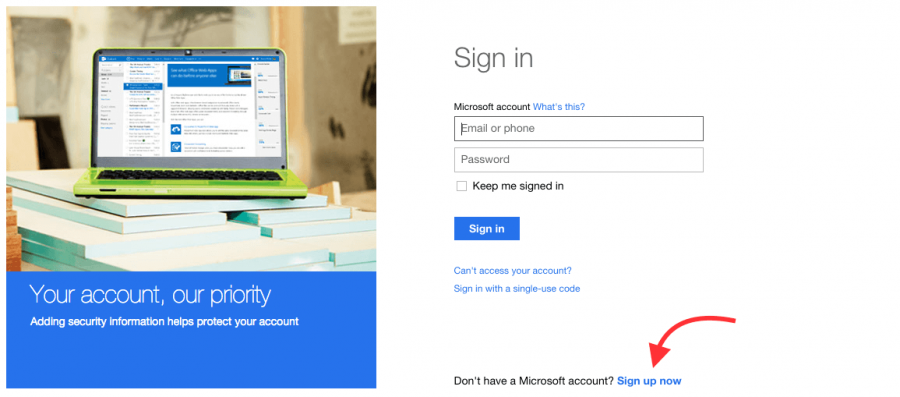 2 - Go to the Bing Places for Business website at www.bingplaces.com and click the "Get Started" button.

3 - Search for any existing listings on Bing Places using your Church Phone Number, Name or Address.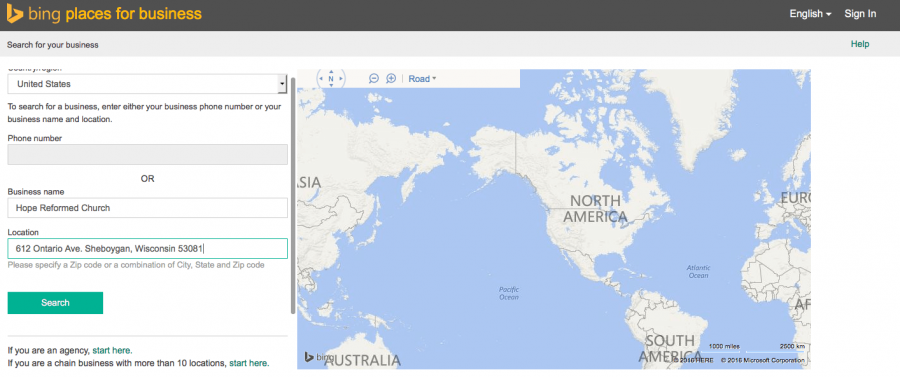 4 - If your church shows up in the results of your search as an existing listing, click Claim Business.
This should make the optimization process easier as Bing will pre-populate the information it already has in the system. All you will have to do it edit the information and add in anything that is missing from your profile. If your church is not listed at all, click
Create new business
. You will have to enter in all of your information completely to fill in your profile.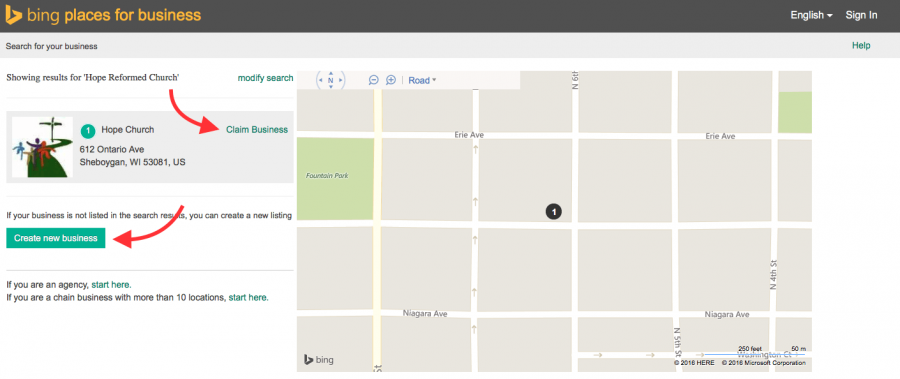 5 - No matter which option you choose, you will be directed to either create or login to a Windows Live account.
If you completed Step 1, you should already have an account and should click to login with your Microsoft account. It will then take you to another Windows Live login screen where you will login. If you did not complete Step 1, you will need to do that before you can move forward. If you are creating a new account at this point in the process you may have to start again at Step 2 because you may lose your place in the process after setting up your Windows Live account.
6 - Completely fill in your Church Contact and Profile Information.
You will be guided through few pages where you will be instructed to enter your church information.
The requested information includes…
Church Contact Information
Specific Category such as Assemblies of God or Baptist
Description for your church
Up to 10 Photos [one should be your church logo]
Church Hours
One tip that can help your church listing increase in local search is to include your local search terms in the name of the photos. So you may name your photos plano-texas-church or churches-in-plano-texas for example. Taking this extra step when naming your photos can have an impact on how findable your church becomes for these terms.
You may come across an entry field that you do not think is relevant to your church. Skip that and fill in all requested information that you feel would be appropriate for your Church.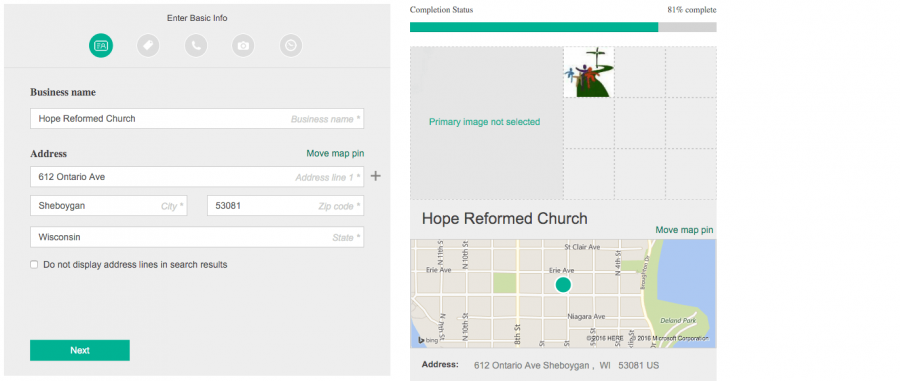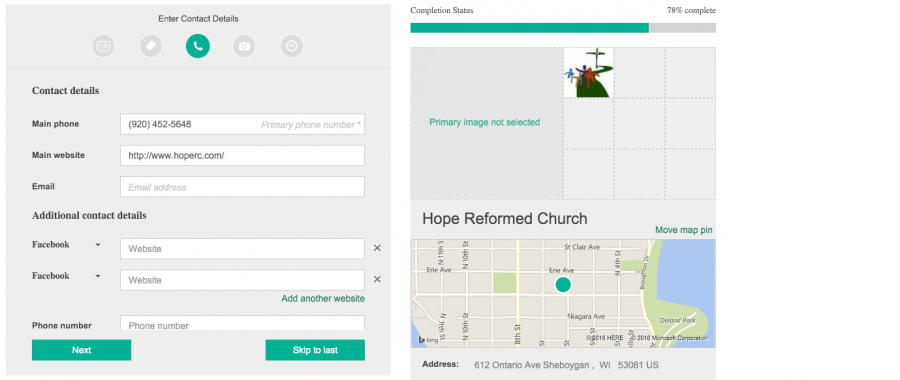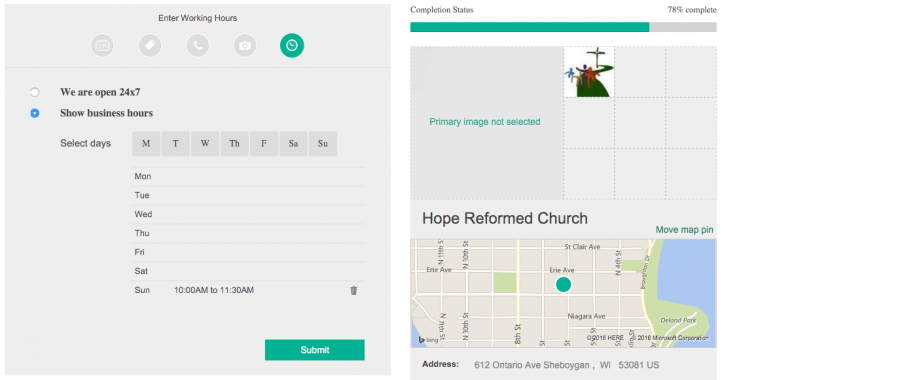 7 - Verify your new Listing by Postcard.
Bing Places wants to know that your church is a real location, and that the person claiming the listing actually has access to the mail or phone at that location.
If this is a new church and you are claiming the location for the first time, your verification option will most likely be limited to requesting a Postcard and waiting for it to arrive in the mail. Click the Verify now button to agree to allow Bing to send you a Postcard. According to Bing, you should receive your Postcard in 3-5 days.
If you are at a church that has a lot of staff and have chosen the Postcard option, it would help to put in your name in the Attn: field before you click "Verify now" so the church administrative staff knows the Postcard is for you and not junk mail.
If you are claiming an existing location that already has a listing on Bing Places, you may have the option of immediate Phone Verification by call or text. They sometimes also offer to ask you a few questions about your church that only the business owner would know. However, the best verification option for churches is most likely either the Phone Call or Postcard.


8 - Enter your PIN verification number and complete your listing profile.
When you receive the PIN verification code either by mail or phone, log back in to your Windows Live account at https://login.live.com and enter the PIN verification code. Then click Verify to complete the claiming process. Bing should then allow the new information you provided in your profile go live on Bing Places.
You will want to go back through your listing at this point to make sure you completed the profile and added the photos you wanted to be shown with your listing.