Twitter is a way to communicate with your congregation and community through short messages.
The current message length limit for Tweets your church posts is 144 characters. Twitter has removed the length limit from messages you send privately to your connections however.
How To Setup your Church Twitter Account
---
You will be sent an email asking you to verify your account. When you receive the email, click the Confirm now button in the email to complete the verification.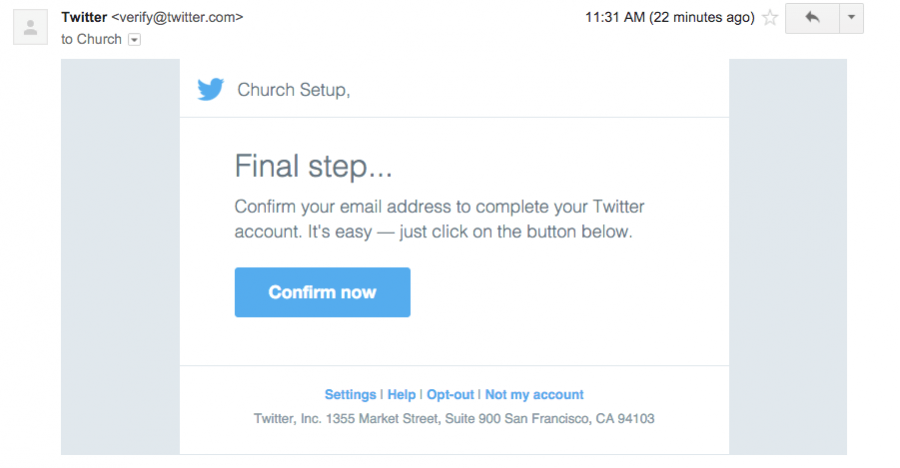 2 - Enter your Church Name, Email Address, choose a Password and click Sign Up to create your account.
You will be taken to a page to enter your mobile phone number. If your church does not have a mobile phone that you want connected to this account, click Skip below the Next button.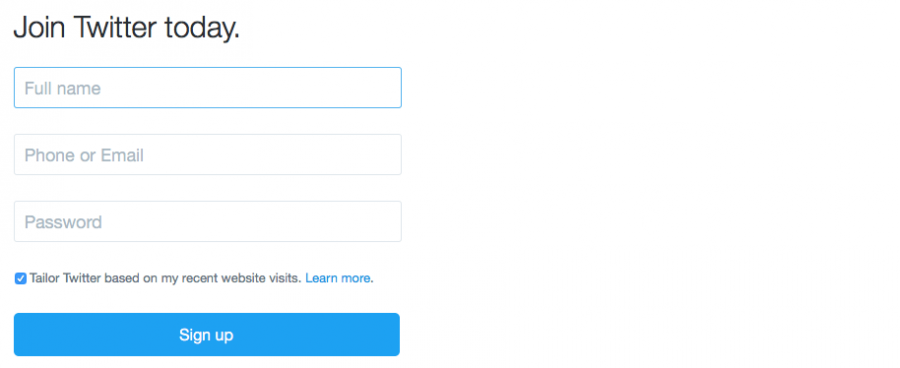 3 - Choose a Username.
This username will also be used in the link of your Twitter account. You can potentially change it later, but it is better to find a name you like from the beginning as you may find that other names you want will be taken in the future.
If you choose a name that has already been taken, Twitter will let you know and even provide suggestions for modifying your chosen name to find one that is available. You may be able to add an additional character or number for instance to find a username that still fits your church, but is not already taken.
Preferably, you will want to find a username that is available across all of your social media accounts. It is much easier to communicate to your congregation if your Facebook, Twitter and other Social Media accounts have the same usernames.
www.NameCheck.com is a resource you can use to find out if your chosen username is available across all Social Media platforms. You can try variations of your Church Name until you find a usable option.
4 - Twitter will then ask you to go through a setup process that includes providing information about your personal preferences.
They may also have you follow a certain number of popular accounts to help you get started.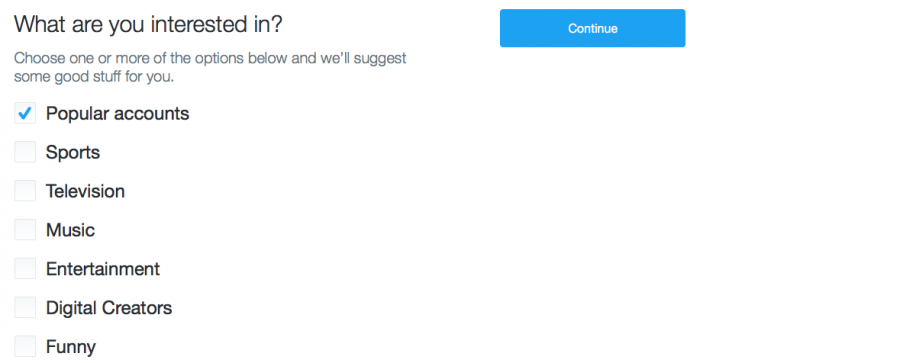 5 - Upload your Church Logo Graphic.
A good size for this logo is 300px by 300px at 72dpi. You can also connect your Twitter account to your Facebook account in this step and it can pull in your Facebook profile photo for you. If you are not ready to upload your Church Logo during setup, you can click skip and complete this step later.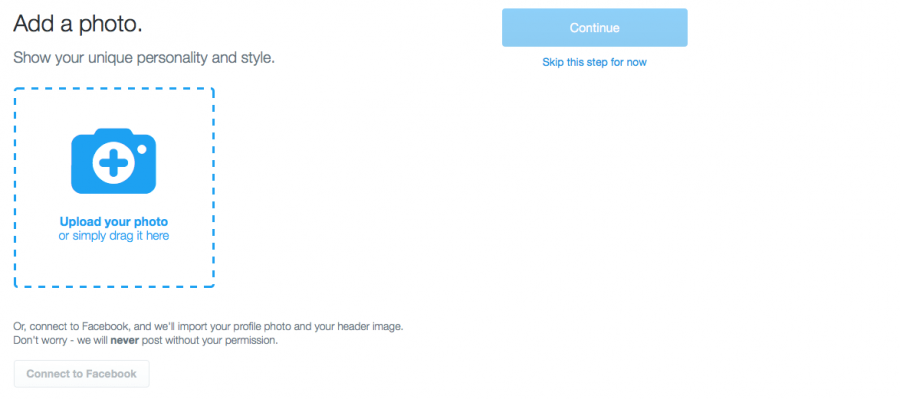 6 - Find People You Know.
If your church has an email address that has contacts entered for people from your church, you can use this step to find and connect to their Twitter accounts. You can also skip this step and move on if you choose not to connect using your email account.
After going through the previous steps and confirming your new account through your email address, you will be taken to your new Twitter home page. Now you will want to take a couple of steps to improve your Twitter profile and experience.

7 - Improve your Twitter Page and Profile.
Click on the profile picture in the top right corner and click View Profile. Then click Edit Profile.

Add your Church Logo and Header Photo graphics. Your Logo should be at least 300px by 300px at 72dpi and needs to be square. Your Header Photo should be 1500px wide by 500px tall at 72dpi.
Complete your profile by filling in your complete Church Name, Bio description, Location, Website Address. You could add the launch date of your Church as the Birthday. Then click Save Changes.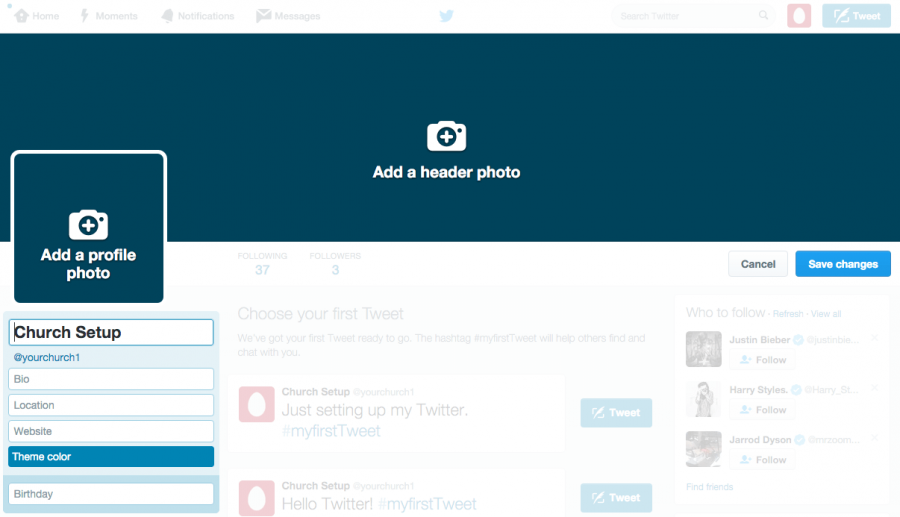 8 - Send your first Tweet.
You can choose from a couple of their suggestions, or get right to your own content and Tweet something about your church.
9 - Manage your Follows and Followers.
During the sign-up process Twitter asked you to pick some popular accounts to follow. If you did this, you will want to unfollow any accounts that you really did not want to follow. Click on Followers and unfollow those you did not want to intentionally follow. Then use the search bar at the top to begin searching for people in your church and community to connect with.

Tips for getting the most out of your Church Twitter account.
---
Add Links to your Tweets
You can include links in your Tweets to your church website, articles, pictures and videos. Even though including links in your posts does take away from your Tweet length, they are still an excellent use of your space as it expands your short message to include whatever you link out to.
Thankfully Twitter does not count the entire length of your link against your 144 characters in your Tweet. Some links you may want to post can be as long as 144 characters themselves, so it shortens the link for you. You just have to shorten your text to make sure you have room to include the link.
You can use a free service to shorten your links such as goo.gl connected to your Google account, or a site like bit.ly to shorten your links in a cleaner format than the Twitter option. When you use these free services, you can track how many times people click your links so you can see how effective your post engagement was for that specific Tweet.
Add Graphics and Videos
In addition to links, you can post Photos and Videos by clicking the Media button when you are creating a new Tweet. This allows you to include a new series graphic if you were posting about an upcoming sermon series for example.
You can also add video and connect it to a tweet. You can either upload your video directly to Twitter in the post editor, or add a link to a YouTube video or other video sharing site.
When you use the Media button to upload your graphic or video you are using Twitter's storage instead of having to use your own online storage.
When you include an image or a video with your post, it can definitely make your tweet stand out from others the feed. Just remember that when you do add video or graphics, you will have to make your text more concise as it will count against your 144 character limit.
Set your Videos to Autoplay
Go to Setting then Account to find the checkbox to choose video Autoplay under the Content section. This will allow your video to begin playing automatically to catch more attention as people are scrolling through their feeds.
Online Polls
Want to ask your Twitter followers a question and get immediate feedback? Maybe you want to learn whether or not people would prefer to add new church service at a later time versus an earlier time.
Create a Tweet with a Twitter Poll. People will have 24 hours to respond and you get immediate results. They can also see the percentage of answers, but not who gave the responses so should be anonymous.
Help people find you on Twitter
There are settings under Security and Privacy that can help people in your congregation and community find your Twitter feed more easily.
Photo Tagging - Allow anyone to tag me in photos This makes it easy for people to tag your church in a photo letting other people know the photo is connected to your church.
Tweet Location - Add a location to my Tweets This lets people know where you are tweeting from, and helps your Twitter feed become found more easily by people in your local area.
Discoverability - Check the boxes to let people find your church by your email address and phone number.
Direct Messages - If you would like to make it easy for people to contact you, check the box to Receive Direct Messages from anyone.
Setup Your Notifications
If you are going to interact with people you connect with on Twitter, you will need to setup which notifications you want to receive so you will be able to respond as soon as possible.
Go to the Email Notifications section in settings to choose what information you will receive at the email address connected to your church Twitter account. You will also setup some of these notifications in the Web Notifications section in Settings.
You can receive at least some of these notifications on your mobile phone either by downloading the Twitter app and having it send push notifications directly to your phone, or by getting notified by text message. You will need to setup your phone in the Mobile settings section to receive text updates.
Connect with your Email Contacts
If you have a church email address using AOL, Gmail, Outlook or Yahoo, you can check your Address book for connections of people who have Twitter accounts. You will find these links in the Find Friends section of Settings.
Connect Helpful Apps
There are many third party apps that can connect and add value to your Twitter account such as Twitterfeed and Hootsuite. You can find more details about this process on the Twitter support page at the link below.
>> https://support.twitter.com/articles/76052#
Typically you connect these apps through Twitter during the registration process on the apps themselves, not inside of Twitter. When you login to these apps they will provide a way for you to connect through your Twitter account.
Once you do connect through Twitter, the connected app will show up in the Apps section of your Twitter account in Settings. If you need to disconnect one of these connected apps, go to this section of your account Settings to Revoke Access.
Create Twitter Widgets
Twitter allows you to create a widget of your post to embed on your church website. You can choose the height, color and theme design that most closely resembles the look and feel of your website. After you create the widget, you are provided with code that you can copy and paste to your website to increase the reach of your Twitter feed.