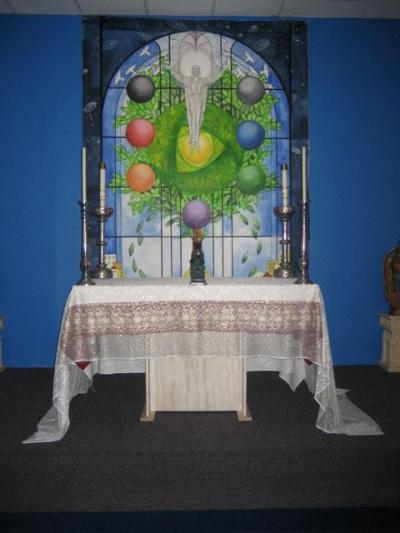 Church Profile
5025 S. Ash Ave. Suite B-15
tempe, AZ 85282
United States

Sundays: 9:00am ~ Divine Energies of the Eucharist 11:30am ~ Contemporary Worship service
Founder and Lead Pastor Jorge Rodriguez Eagar
Our Mission
The Shrine of Holy Wisdom is an affirming and inclusive community offering a diversity of spiritual practices from many traditions and cultures that lead to the direct mystical experience of Universal Love.
About The Shrine of Holy Wisdom
We are a Center for the study & practice of Holistic Spirituality. We worship in the universal catholic tradition, providing a sacramental liturgy in an inclusive and loving environment. Our focus is on the esoteric, mystical, and metaphysical aspects of the Western Hermetic tradition. Our doors are open to people of all beliefs whose intent is Self realization.
Average Age of Attendees:
40-50
MINISTRIES AND GROUPS
Groups and Public Services
A diversity of classes in western esotericism, weekly prayer and meditation events, healing sessions, angelic rituals, and a diversity of worship services.
BELIEFS
We regard spirituality as the immediate result of one's commitment to walk The Way of Love as is revealed and summed up by the Master Sage of Ageless Wisdom Yeshua of Nazareth: "Love the Lord your God with all your heart and mind and soul and strength, and the second is like unto it, Love your neighbor as you love yourself." The heart of all the services at the Shrine of Holy Wisdom is the cardinal doctrine of LOVE!
Healing and Charismatic Gifts:
Regularly Practice
MAP
The Shrine of Holy Wisdom is a Non-Denominational Church located in Zip Code 85282.