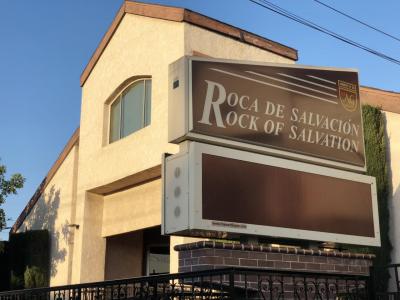 Church Profile
122 S Evergreen Ave
Los Angeles, CA 90033
United States

Service Times Sunday 9:30AM English 11:00AM Spanish Sunday School 2:30PM Spanish Afternoon Tuesday 7:30PM Spanish Wednesday 7:00PM Bilingual Kids classes Missionettes (girls) and Royal Rangers (boys) Thursday 7:30PM English Bible Study Friday 7:30PM* *First two Fridays of the month (Spanish) and last two are Youth Night (Bilingual) Saturday 1:00PM* Brazos Abiertos/Open Arms Food Bank Ministry meets monthly on the second and fourth Saturday

M.
Member
As I started to attend the English service regularly at Rock of Salvation Church, I noticed my faith increase tremendously, I am proud to be a member here and to attend services with my mother who has been a member for over 20+ years. Our Weekly powerful sermons given by...
Read more
S.
Member
Very uplifting services with awesome worship and solid word of God. It's welcoming, without judgement. Pastor Joe is dedicated and has a heart for God. We are blessed to be members. Come check it out!
About Rock of Salvation Church A/G
MAP
Rock of Salvation Church A/G is a Pentecostal Church located in Zip Code 90033.