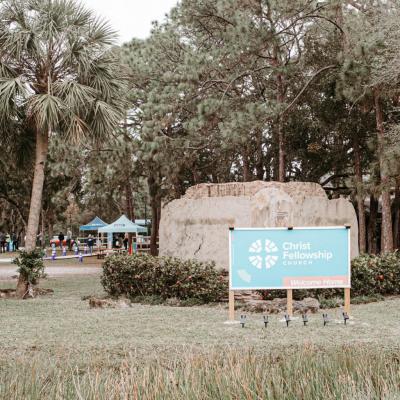 Church Profile
9087 Glades Rd
Boca Raton, FL 33434
United States

Sundays at 8:30AM, 10AM, & 11:45AM

Senior Pastors Todd & Julie Mullins
Our Mission
To lead a radical transformation for Jesus Christ in our region and beyond... Everyone, Everyday, Everywhere.
T.
Member
Church that make you feel welcomed and happy that I'm Part of this community! Get to volunteer in different areas and also encouraging to choose what we like the best ! Love the worship. This place gave some new friendship and make you feel that you are part of it.
B.
Church Staff
I have never felt more at home at a church than at Christ Fellowship. I can truly say that I call this church my family. I have been able to grow so much closer to God through Christ Fellowship. I have gained so many friends through being part of groups and serving events. I...
Read more
W.
Church Staff
I moved to FL last year and have been attending for about 6 months now. Love the word that is shared every weekend. The Boca Raton campus recently opened it's doors and it's been an amazing experience. Love the senior pastors and the campus pastors. Truly feels like...
Read more
About Christ Fellowship Church
Every weekend we have church services where you can experience uplifting worship, powerful messages from our pastors, special programming for your kids, and an opportunity to meet other amazing people like you!
Service and Sermon Style:
Contemporary Teaching
Average Age of Attendees:
all-ages
Community Projects:
Over-24
Primary Language:
English
MINISTRIES AND GROUPS
Groups and Public Services
BELIEFS
We believe in The Bible, The Trinity, The Father, The Son, The Holy Spirit, Spiritual Gifts, The Baptism of The Holy Spirit, Eternity, Humanity, Salvation, Repentance, The Christian Life, and The Church.
Baptism:
Older Children/adults
Communion Frequency:
Occasionally
Healing and Charismatic Gifts:
Regularly Practice
Regularly Practice:
Altar Call or Invitation
MAP
Christ Fellowship Church is a Non-Denominational Church located in Zip Code 33434.