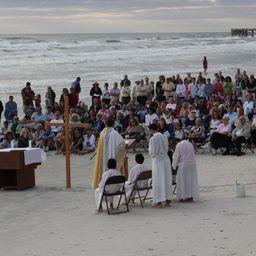 Church Profile
1014 N. Halifax Ave.
Daytona Beach, FL 32118
United States

Weekend Mass Times: 4:00 p.m. Saturday, 8:00 a.m., 9:30 a.m., & 11:00 a.m. Sunday Daily Mass Times: 11:00 a.m. M, T, W & F; 9:30 School Mass on Thursday
Our Mission
OUR MISSION "Loving the God we cannot see by loving the neighbor we can." We are a Catholic community...called to love the God we cannot see by loving the neighbor we can. We strive to provide a welcoming place of worship for everyone: members and visitors alike. We share an active communal prayer life found within the liturgical celebrations and sacramental life of our church. We offer many forms of faith formation in order to foster a deeper understanding of our moral, spiritual and liturgical life. We nurture the call to be good stewards by sharing the gifts of time, talent and treasure given to us by God. The dignity and sacredness of all human life inspires us to advocate for the poor, oppressed and exploited both near and far. We believe we are the body of Christ, God's presence in this world, and that God gives us the strength we need to build the kingdom of God here and across the world.
About Our Lady of Lourdes Catholic Church
Our Lady of Lourdes is a unique community in that we truly try to put our faith into action. We love the God we cannot see by loving the neighbor we can. We call this "Justice Ministry". We are all at different places in our faith journey, yet we all strive to grow into a deeper relationship with God. We are a community that respects our diversity, each member bringing his or her gifts and talents to build the Kingdom of God here in Daytona Beach.
Average Age of Attendees:
all-ages
MINISTRIES AND GROUPS
Groups and Public Services
F.A.I.T.H. - Fighting Against Injustice Toward Harmony (we are one of 35 local churches working together for justice in our community)
BELIEFS
As contained in the Apostles Creed and the Nicene Creed.
Eternal Security:
Yes, Can Lose
Healing and Charismatic Gifts:
Regularly Practice
MAP
Our Lady of Lourdes Catholic Church is a Catholic Church located in Zip Code 32118.