Church Profile
875 Klosterman Rd E
Tarpon Springs, FL 34689
United States

Adult Sunday School 10:00 AM Church Service 11:00 AM Wednesday Service 7:00PM ( Pastor Bob ) Ladies prayer service 10:30 AM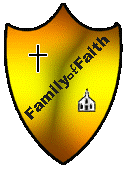 Senior Pastor Ken Vinyard
Our Mission
The mark of an effective church is not how many come, but how they live their lives after they come.
H.
We were visiting family in the Tarpon Springs area and needed a church to attend. We decided to Attend Family Of Faith Church as it sounded friendly and appealing. Yes it was!! And what a wonderful surprise. Everyone welcomed us with open arms and we felt right at home. The...
Read more
About Family Of Faith Church
We are are full gospel, Bible believing church. We are small but powerful in the name of Christ.
Average Age of Attendees:
40-50
MINISTRIES AND GROUPS
Groups and Public Services
BELIEFS
If you're looking for a full gospel, God loving, Spirit filled church. That truly loves, and welcomes ALL people then you need to visit us. If the Lord leads you to stay with us we will be blessed. If not, and we see you again we will love you as much as when you first visited us. We believe in Prayer, we believe that prayer changes things, and that there is power in prayer. Come visit us, we would love to share the love of Christ with you.
Baptism:
Older Children/adults
Eternal Security:
Yes, Can Lose
Healing and Charismatic Gifts:
Regularly Practice
MAP
Family Of Faith Church is a Spirit-Filled Church located in Zip Code 34689.