Church Profile
69-1600 Puako Beach Dr
Puako, HI 96743
United States

Sundays at 9am. One hour in length. Children leave for a half hour of Sunday School during the service. Following the service you are invited to linger for coffee, treats and conversation.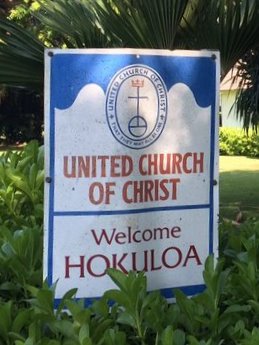 Our Mission
To follow Christ in our walk with God and each other
Celebrating the traditions of our faith and the unique gifts of our Hawaiian heritage, sharing our aloha with neighbors near and far, and renewing ourselves and the earth by grace-filled living and giving.
About Hokuloa United Church Of Christ
Hokuloa Church is part of the United Church of Christ (UCC); a Congregational Protestant Church. Services are an hour starting at 9am on Sundays followed by coffee, treats and conversaton. Hokuloa UCC is located 15 minutes north of Waikoloa Resorts - go 6+ miles to Puako Road, turn on Puako Road and go in 1 mile. The church will be on your right. Vacation visitors are especially welcome. Aloha wear, sandals and shorts are standard attire.
Average Age of Attendees:
all-ages
MINISTRIES AND GROUPS
ONA Discernment Process Restore Ocean Front Chuukese and Marshallese Ministries Welcome Island Visitors Food Drives Host Addiction Groups Wedding Chapel Wedding Venue Your Church by the Ocean
BELIEFS
Open and Affirming (ONA) Discernment Process ONA is the United Church of Christ's (UCC) designation for congregations and other bodies in the UCC which make a public covenant of welcome into their full life and ministry to persons of all sexual orientations, gender identities, and gender expressions. Hokuloa is currently involved in the ONA discernment process. Periodically, we'll have workshops, forums, and speakers to help facilitate this conversation.
Communion Frequency:
Monthly
Regularly Practice:
Praying the Lord's Prayer
MAP
Hokuloa United Church Of Christ is a Christian Church located in Zip Code 96743.