Church Profile
5579 Clem Rd
Portage, IN 46368
United States

Services are Sunday at 10:30am, additional weekly activities can be seen on our website, www.mccilliana.org.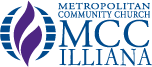 Our Mission
Celebrating the Belief that All People are a Reflection of God's Love

h.
Hey, This is the most inviting church for the LGBTQ community. They welcome you with open arms and except you for being you. Wheather your gay, straight, lesbian, queer, transgender or any other type of sexuality plus your family and allies, your all welcome to this all...
Read more
About Metropolitan Community Church Illiana
MCC Illiana is a Christian church with a focus on gay, lesbian, bisexual, transgender and queer spirituality. With a firm foundation in the teachings of Jesus Christ as recorded in the Holy Scriptures, we reach out with an affirming message of the full inclusion of all people in the sacraments of the church. Taking our faith from the dark places where other churches seem to drop us, we celebrate the resurrection of Jesus from the isolation of the tomb to the light of a transformed world. We seek to move our community from the darkness of hatred and fear and into the light of God's love. We believe in the diversity of being created in God's image and create opportunities for GBLTQ people of faith and their allies to gather for Biblical study, spiritual development and social justice.
Average Age of Attendees:
40-50
Community Projects:
11-24
MINISTRIES AND GROUPS
Groups and Public Services
MAP
Metropolitan Community Church Illiana is a Christian Church located in Zip Code 46368.