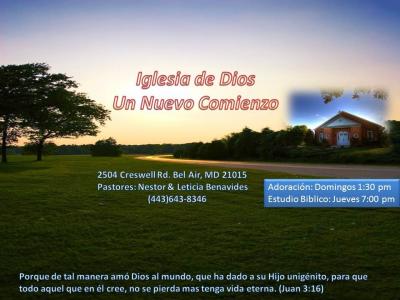 Church Profile
2504 Creswell Rd.
Bel Air, MD 21015
United States

Adoración: Domingos 1:30 p.m. Estudio Bíblico: Jueves 7 p.m.

About Iglesia de Dios un Nuevo Comienzo
LA IGLESIA DE DIOS UN NUEVO COMIENZO es una comunidad Cristo céntrica donde se predica el evangelio de salvación a todas las naciones.
Average Age of Attendees:
20-30
BELIEFS
Creemos que Jesucristo vino para la salvación de la humanidad. Creemos en la Trinidad divina del Padre, Hijo y Espíritu Santo. Constantemente buscamos la presencia y voluntad de Dios para servirle mejor. Hacemos trabajo misionero comunitario para llevar aliento al quebrantado y amor al olvidado.
Baptism:
Older Children/adults
Eternal Security:
Yes, Can Lose
Healing and Charismatic Gifts:
Open But Cautious
MAP
Iglesia de Dios un Nuevo Comienzo is a Christian Church located in Zip Code 21015.