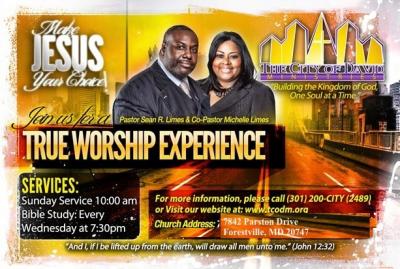 Church Profile
7842 Parston Drive
Forestville, MD 20747
United States

Sunday Services - 10:00am Bible Study: Every Wednesday at 7:30pm Youth Sunday: Every 3rd Sunday Youth Night: Every 4th Friday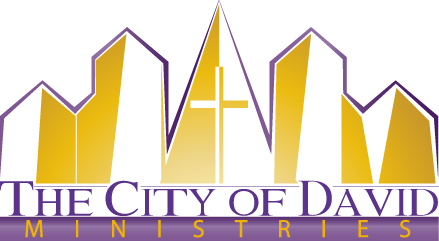 Pastor R. Sean Limes and Co-Pastor Michelle Limes
Our Mission
Our Mission is to: • To Love God and Worship Him with all of our hearts. • To walk in Integrity and Godliness. • To seek those that are lost and Rebuild Broken Lives. • To Empower and Encourage people to move forward and operate into their God-given purpose. • To promote LOVE in every aspect of ministry.
About The City Of David Ministries
God has blessed The City of David Ministries through the vision of Reverend R. Sean Limes, Visionary, and Pastor beginning in January 2011. The City of David's mission is "Building the Kingdom of God, One Soul at a time." The City of David is a nondenominational church where Jesus is being lifted up and exalted through messages that teach the people of God three things: to hate sin, to love God and love one another. Our primary goal is to present the full Gospel of Jesus Christ. We believe in prayer, fasting, healing and deliverance. The Lord has given Pastor R. Sean Limes and Co-Pastor Michelle Limes a gift to passionately work together to save the lost, rebuild broken lives, encourage and empower people to live in victory. We teach the importance of restoration of families and empowering the men and women through the teaching of Biblical principles and the manifested power of God. It is with pleasure that we extend to you a cordial invitation to join us in worship services.
Average Age of Attendees:
20-30
Community Projects:
11-24
MINISTRIES AND GROUPS
Groups and Public Services
BELIEFS
We believe… …the Bible is the inspired and only infallible and authoritative Word of God. …there is one God, eternally existent in three persons: God the Father, God the Son, and God the Holy Spirit. …in the deity of our Lord Jesus Christ, in His Virgin Birth, in His sinless life, in His Vicarious and atoning death, in His bodily resurrection, in His ascension to the right hand of the Father. …in the Blessed Hope – The rapture of the church at Christ's coming. …the only means of being cleansed from sin is through repentance and faith in the blood of Christ. …regeneration by the Holy Spirit is absolutely essential for personal salvation. …the redemptive work of Christ on the cross provides healing of the human body in answer to believing prayer. …the baptism of the Holy Spirit, according to Acts 2:4, is given to believers who ask for it. …in the sanctifying power of the Holy Spirit, by whose indwelling the Christian is enabled to live a holy life.
Baptism:
Older Children/adults
MAP
The City Of David Ministries is a Non-Denominational Church located in Zip Code 20747.