Church Profile
10732 Hanson Blvd.
Coon Rapids, MN 55433
United States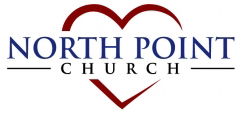 About North Point Church
When You Walk through Our Doors – You're Family! Maybe it's been awhile since you attended church. Perhaps you've never attended one of North Point Church's events, or maybe you've never attended a church – now you're wondering if it could help? You know it's probably good for the kids; yet, not really sure if you'll get anything out of it. You want something close to Coon Rapids MN, yet you're not sure what church to try. If you can identify with any of these feelings – We understand – we've all felt like that at one time. North Point could be what you're looking for – it's a place designed with you in mind. We are a Church made up of people just like you. A place where you can be yourself. We strive to be encouraging, relevant, and upbeat. It's our desire to create a safe place for people of all backgrounds to experience the depth and fullness that faith in Jesus makes possible. Your kids will discover a children's program that they will love to attend. Sound interesting? Don't take our word for it…be our guest at one of our Sunday Services.
Average Age of Attendees:
40-50
Primary Language:
English
MAP
North Point Church is a Christian Church located in Zip Code 55433.