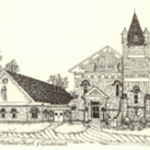 Church Profile
34 Grove Street
P.O. Box 157
Gouverneur, NY 13642
United States

11:00 A.M., for the months September - June 10:00 AM, July and August

Our Mission
Our vision: To live the gospel of Jesus Christ and to be God's love with our neighbors in all places. Our purpose: Growing in our relationship with God, Being the body of Christ within the world, living in accordance with the example of Jesus Christ.
About First United Methodist Church
Open Minds. Open Hearts. Open Doors. Our Mission is to live the Gospel of Jesus Christ and to be God's love with our neighbors in all places. We seek to Build New Lives for a New World in the Way of Jesus through: (1) meaningful, welcoming and inclusive worship, (2) opportunities for meaningful spiritual learning and growth, (3) reaching out to others to serve them, invite and include them in our community life, and witness to our faith in the world around us, and (4) giving of our time and talents undergirding our life with prayer.
MINISTRIES AND GROUPS
Groups and Public Services
BELIEFS
As United Methodists, we have an obligation to bear a faithful Christian witness to Jesus Christ, the living reality at the center of the Church's life and witness. To fulfill this obligation, we reflect critically on our biblical and theological inheritance, striving to express faithfully the witness we make in our own time. Want to know more? Please watch "Chuck Knows Church" available via youtube or from umc.org.
MAP
First United Methodist Church is a Methodist Church located in Zip Code 13642.