Church Profile
100 Underhill St.
Yonkers, NY 10710
United States

Sunday mornings at 10 a.m. live on our Facebook page and in person in the church when covid mandates allow. Check our website to be sure: www.stjohnstuckahoe.com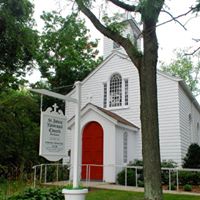 Our Mission
Love God, Love Neighbor, Change the World.
St. John's is an Episcopal Church, and it meets you where your heart lives. St. John's is inclusive, progressive, and active in the world. We are liturgical. We don't have altar calls. We don't preach hellfire and damnation. ​We believe scripture and tradition must be viewed alongside reason. We invite all the baptized of all genders, sexuality, marital status, and doubts to come to the altar rail. We invite those who aren't baptized to the altar rail too, for a blessing. We love excellent preaching, ancient liturgy, traditional and contemplative music, prayer, fine food, and silly jokes. ​We don't like to judge but we do long to change the world to reflect the character of God's great love for all of us. Coming to church should be what you look forward to, what gives you strength to go about your week as a living example of compassion, mercy, joy and love. This is where you will find family, friends, purpose, joy and radical acceptance of who you are.
About Saint John's Episcopal Church,Tuckahoe
St. John's is a historic episcopal church that is progressive, welcoming, growing and lively. We are not a big box church. We're a small church that is diverse and open. We see each other as family and we love to learn from our new members. We love to worship, gather, advocate and experience life together as a worshippng community that sees all people as beloved We support our LBTQ+ friends, we work toward an end of discrimination due to race and gender, we support rural migrant ministries, have a social justice team and feed the hungry with regular donations to our food pantries partners. Plus, we love God, serve neighbor and try to do our part to better the world.
Service and Sermon Style:
Liturgical
Average Age of Attendees:
all-ages
Primary Language:
English
MINISTRIES AND GROUPS
Groups and Public Services
Social Justice Team Altar Guild Gardening Team Food Love Team Welcome Team Join us in this work that provides meaning to our lives and blesses the church!
We offer communion services every Sunday at 10 AM. Communion is available to anyone who has been baptized regardless of marital status, gender identity, sexual preference. During COVID, we are not receiving communion, but we offer a spiritual communion where the priest receives on our behalf. We hope to be able to offer communion spring/summer 2021. We offer Christmas Eve, Easter Sunday and Holy Week services. We would love to see you then. In fact, please, come any Sunday and give the church another chance. We think you'll really like it here.
BELIEFS
ou want more in life. We have what you're looking for. So, let's get together this Sunday. The truth is, most of us want more. More hope. More joy. More meaning. We long for connections with the holy and for a community to work with in transforming our world. If you can relate, give St. John's Episcopal Church a try this Sunday morning at 8:30 or 10 a.m. We just might be what you've been looking for. Like you, St. John's doesn't always fit the mold. We love ancient liturgical worship but we have contemporary views on current issues. We enjoy fine music but really don't care what you do or what you wear. At St. John's, you'll find families, singles, couples, kids, partners, divorced, empty-nesters, liberals, conservatives, skeptics, introverts, extroverts, faded jeans, widows, and wiggly children. You'll also find a church that wants you as you are and that needs you to be complete. Visit us and find out more
Primary Bible Version Used:
New International Version
Communion Frequency:
Weekly
Eternal Security:
No, Can't Lose
Healing and Charismatic Gifts:
Ceased
Regularly Practice:
Praying the Lord's Prayer
MAP
Saint John's Episcopal Church,Tuckahoe is a Episcopal Church located in Zip Code 10710.