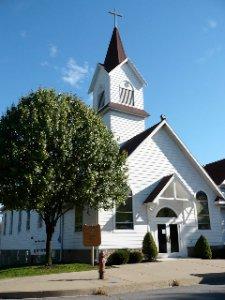 Church Profile
238 Reese St
Scranton, PA 18508
United States

Join us for Faith and Fellowship Saturday: 05:30PM Sunday: 10:00AM Beverages and a light snack in the Parish Hall follow the Sunday Morning Worship Service. Adult Bible Study - 11:45AM Children's Sunday School - 11:45AM

Reverend Anthony Mandile III
Our Mission
"... Continue to build God's Kingdom by lovingly teaching, preaching, and reaching out with the Good News of our Savior, Jesus Christ."
About Immanuel Lutheran Church and Preschool
Faithfully and gratefully serving our Lord, and the N. Scranton community for more than 100 years.
Community Projects:
11-24
MINISTRIES AND GROUPS
Groups and Public Services
Our church is also affiliated with the Lutheran Braille Workers. In the past 25+ years our volunteers weekly publish Bibles, Prayer Books and Christian literature in Braille for distribution world-wide. The Preschool and Kindergarten is PA State Certified, and operates in conjunction with the Lutheran Elementary Childhood Center Scranton (http://leccs.org) providing a Christ-centered educational foundation for our children and community.
MAP
Immanuel Lutheran Church and Preschool is a Lutheran Church located in Zip Code 18508.