Church Profile
Call for service information
2908 Otranto Rd
Lot 1
North Charleston, SC 29406
United States

Monday 6 - 8 AM Street Ministry Thursday 6 - 8 PM Fellowship & Food Giveaway 1st of the Month 6 PM National Prayer Day Sunday 3 PM Worship Service 3rd Sunday of the Month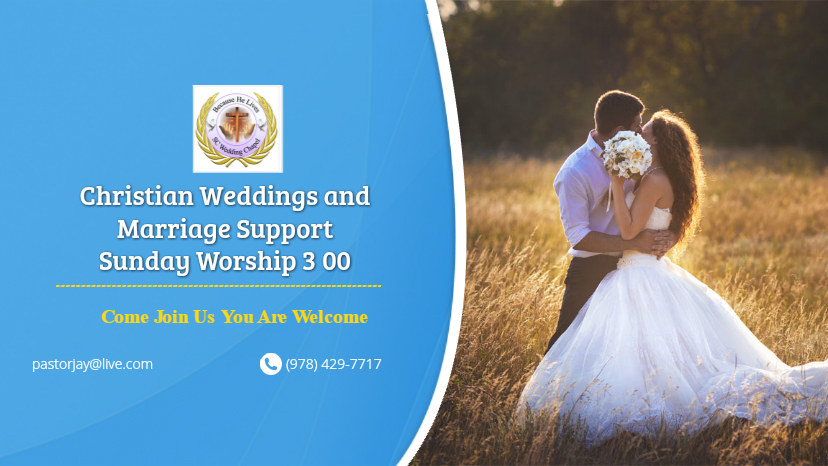 Executive Pastor Pastor Jay Randolph
Our Mission
Our mission at South Carolina Wedding Chapel church is to reach our community and the world for Christ through the power of God's Word, by… Exalting the Savior (worship) – Giving God the glory due His name by the weekly exposition of His Word and Christ-honoring music. Evangelizing the Sinner (Missions) – Taking the Gospel of Christ to our world. Enlisting the Servant (ministry) – Meeting the needs of others. Equipping the Saved (Discipleship) – Developing people who know and do what Christ taught. Edifying the Saints (Fellowship) – Building on a common faith.

N.
New Attender
My Wedding My wife and I are Christians, however many of our friends are not. We looked for a neutral wedding officiant, but are thankful we found Pastor Jay. He quickly and gently showed us that without God, there is no marriage. He is a kind, funny, genuine and wonderful...
Read more

R.
Monday 6-8 AM Street Ministry on Red Bank Rd. Wednesday 6 PM Bible Study,Sunday 3 PM on 3rd Sunday of the Month Worship 1st of the Month National Prayer Day 6 PM
About South Carolina Wedding Chapel
We welcome and love everybody. We are a small group which meets in homes and other places and we follow the Bible which is the Word of God
Denomination / Affiliation:
Baptist
Service and Sermon Style:
Spirit-led Preaching
Average Age of Attendees:
all-ages
Community Projects:
11-24
Primary Language:
English
MINISTRIES AND GROUPS
Groups and Public Services
Worshiping God, Contributing to God's work, Walking with God's people, and Impacting God's world. Seeing many trust Christ as their Savior, at home and beyond! Mending the lives of the broken!
BELIEFS
We believe in God the Father Almighty, Maker of heaven and earth. And in Jesus Christ his only Son our Lord; who was conceived by the Holy Ghost, born of the Virgin Mary, suffered under Pontius Pilate, was crucified, dead, and buried; he descended into hell; the third day he rose again from the dead; he ascended into heaven, and sitteth on the right hand of God the Father Almighty Jesus is the only way to Heaven, and God.
Baptism:
Older Children/adults
Eternal Security:
No, Can't Lose
MAP
South Carolina Wedding Chapel is a Bible Church located in Zip Code 29406.