Church Profile
1533 W Lamar Alexander Pkwy
Maryville, TN 37801
United States

Services begin at 9 a.m. & 10:30 a.m. every Sunday morning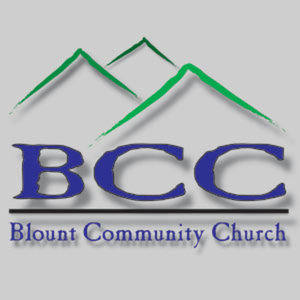 About Blount Community Church (BCC)
We serve Blount community in Tennessee (and around the world) as an independent contemporary Christian church not bound by a larger church body or denomination.
Average Age of Attendees:
all-ages
Community Projects:
11-24
MINISTRIES AND GROUPS
Groups and Public Services
When you arrive expect to be greeted by normal, friendly people. We are glad you're here and want someone at the front door to welcome you. Greeters will answer questions and point you in the direction to go. Once inside the doors, you will see a Café and Welcome Center, there you will find friendly people who can answer any questions as well. If you have children they will point you to the children's registration area. The café is a great place to get a drink or snack...but don't let the smell of donut holes and espresso lure you into hanging out too long and being late to the worship time. Monitors mounted behind the Welcome Center counter and next to the cafe show announcements and a countdown showing exactly when we will begin. Our worship band usually kicks off with music and singing. Our music is loud and for lack of a better word, "contemporary". We use media in the service. Messages are biblically based with the goal of hearing God speak to us which will make a difference in how we live. The atmosphere is casual…come as you are. Expect to feel comfortable. Not embarrassed. Not judged. Services usually last 65-70 minutes.
BELIEFS
We believe the Bible to be the inspired, the only infallible, authoritative Word of God. 2 Timothy 3:16; 2 Peter 1:20-21; 2 Timothy 1:13; Psalm 119:105, 160; 12:6; Proverbs 30:5 We believe that there is one God, eternally existent in three persons: Father, Son and Holy Spirit. Genesis 1:1, 26-27; 3:22; Psalm 90:2; Matthew 28:19; 1 Peter 1:2; 2 Corinthians 13:14 We believe in the deity of our Lord Jesus Christ, in His virgin birth, in His sinless life, in His miracles, in His vicarious and atoning death through His shed blood, in His bodily resurrection, in His ascension to the right hand of the Father, and in His personal return in power and glory. Matthew 1:22-23; Isaiah 9:6; John 1:1-5; 14:10-30; Hebrews 4:14-15; 1 Corinthians 15:3-4; Romans 1:3-4; Acts 1:9-11 1 Timothy 6:14-15;Titus 2:13 We believe that for the salvation of lost and sinful people, regeneration by the Holy Spirit is absolutely essential and only possible through Jesus Christ. Isaiah 53:6a; 59:1-2; Romans 3:23; 6:23; Ephesians 2:8-9; John 14:6; Titus 3:5 We believe in the present ministry of the Holy Spirit by whose indwelling the Christian is enabled to live a godly life. 2 Corinthians 3:17; John 16:7-13; 14:16-17; Acts 1:8; 1 Corinthians 2:12; 3:16; Ephesians 1:13; Galatians 5:25;Ephesians 5:18 We believe in the resurrection of both the saved and the lost; they that are saved unto the resurrection of life and they that are lost unto the resurrection of damnation. John 5:28-30; Romans 6:23; 8:17-18;1 Corinthians 15:50-58; Revelation 20:15 We believe in the spiritual unity of believers in our Lord Jesus Christ. Romans 12:4-5; 1 Corinthians 12:13; Ephesians 4:1-16; Colossians 1:18
Baptism:
Older Children/adults
Eternal Security:
No, Can't Lose
Healing and Charismatic Gifts:
Open But Cautious
MAP
Blount Community Church (BCC) is a Non-Denominational Church located in Zip Code 37801.