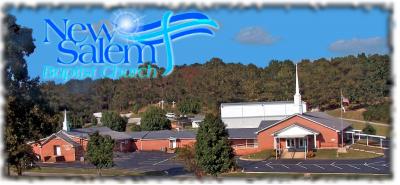 Church Profile
9806 Dallas Hollow Rd
Soddy Daisy, TN 37379
United States

Worship: Sunday 10:45 AM & 6:00 PM Wednesday 6:30 PM Sunday School Small Group Bible Studies (for all ages): Sunday 9:30 AM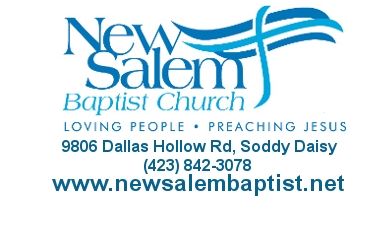 Our Mission
Preaching Jesus. Loving People.
About New Salem Baptist Church
New Salem is a warm, loving congregation where you can be introduced to Jesus Christ and discover what it means to follow him. We strive for our worship to be honest, heart-felt and honoring to God, with a relaxed, family atmosphere that incorporates a variety of musical styles. Our preaching and teaching is centered on the Bible, seeking to apply the timeless truths of Scripture to the issues of modern life. Our fellowship is genuine and caring, seeking not just to be a friendly church but a church of friends (when you come to worship, be prepared to receive lots of handshakes and hugs). We are also a community that believes in ministry, getting outside the walls of our campus to share the love of Jesus through acts of service to others. If fact, we believe that the message of Jesus is so life-changing that we feel compelled to go out and share it with as many people as possible, both through the efforts of our own church and in partnership with our sister Southern Baptist congregations around the country. We hope that you will be our guest in person at your earliest convenience. If you have any questions about New Salem Baptist, please do not hesitate to contact us. May God richly bless you as you seek His direction in your life, and remember--no one loves you more than Jesus does!
Denomination / Affiliation:
Baptist
Average Age of Attendees:
all-ages
MINISTRIES AND GROUPS
Groups and Public Services
BELIEFS
New Salem's beliefs are in accordance with the Baptist Faith & Message 2000. For more information, please visit us at www.newsalembaptist.net.
Baptism:
Older Children/adults
Eternal Security:
No, Can't Lose
MAP
New Salem Baptist Church is a Baptist Church located in Zip Code 37379.