Church Profile
4601 39th St
Lubbock, TX 79414
United States

10 am Sunday School 11 am Sunday Worship 6 pm Sunday Worship 7:30 pm Wednesday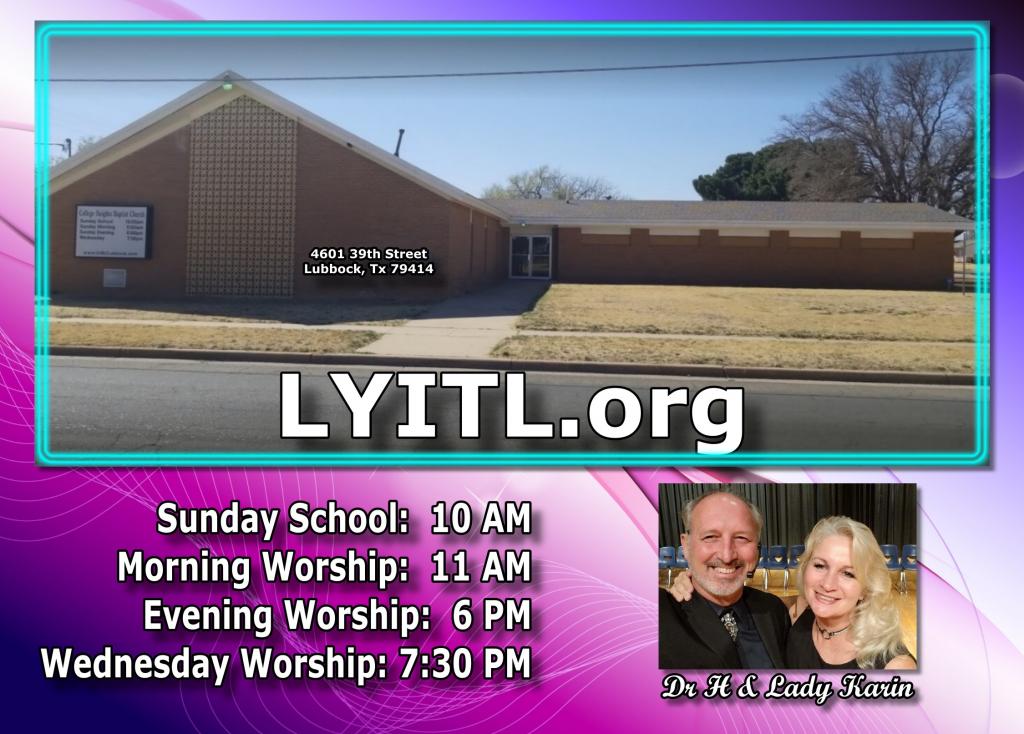 Our Mission
Reach the lost and disciple the saved to reach the lost.
What we believe: https://lyitl.org/more-info/what-we-believe
About College Heights Baptist Church - LYITL
We would like to invite you and your family to worship with us. You will find open arms, smiles and hugs awaiting you and your family. Plan now to come worship and fellowship with us this week! Love You In The Lord Ministries is a collection of imperfect people, who make up a community of faith, where we don't have all the answers. We're not big on "religion" but we do think that a relationship with Jesus Christ is the most amazing thing that any human being can experience. We are a church that reaches across all racial, generational, and socioeconomic lines to love people in practical ways so that others can see what God intended for them. We believe there is a better way to do life and our relationship with Jesus is the key to understanding the difference. Life-change Is what happens when God transforms us. We believe the most important relationship we could have is with Jesus Christ who entered our world so that we might enter His. Only through Him, and faith in Him are we able to have abundant life in Christ, healing in our relationships, friendships, marriages, families and neighbors. At Love You In The Lord Ministries, we are convinced that the New Testament is the model for what the church should be and look like. The Bible reveals that Christ-followers should do life together. We are a church that loves people no matter what station in life they are at and what choices they've made in their past. We are a church that desires to be the hands and feet of Jesus to reach out into a culture that is full of hurts, habits, hang-ups and heartaches. We are convinced that it is possible to have a difference in opinion on non-essential theological matters and still connect, worship, grow, serve, and give to the one true God together. We believe everyone has a story to tell and that everyone can be used by God to make a difference in the lives of other people to bring God glory through the life changing transformation that happens when God gets a hold of broken hearts and messed up lives. We're not hung up on a theological heritage and consider ourselves an independent, non-denominational, Christian church. We do identify with many perspectives from the Restoration Movement and at the same time have open dialog and fellowship with believers from other evangelical denominations. We don't wear any label other than that of Christ-followers or Christians. We don't think we have it all figured out. We don't think we're the only Christ-followers. We are about a God who uses imperfect people perfectly in His way and in His time without regard to rules and regulations and theological traditions to bring about life-change in the hearts and lives of people.
Denomination / Affiliation:
Baptist
Service and Sermon Style:
Verse-by-Verse Teaching
Average Age of Attendees:
all-ages
Primary Language:
English
BELIEFS
https://lyitl.org/more-info/what-we-believe
Primary Bible Version Used:
King James Version
Baptism:
Older Children/adults
Communion Frequency:
Weekly
Eternal Security:
No, Can't Lose
Regularly Practice:
Altar Call or Invitation
MAP
College Heights Baptist Church - LYITL is a Baptist Church located in Zip Code 79414.