Church Profile
870 Co Rd 4870
Winnsboro, TX 75494
United States

Service Times, Lord Willing Lord's Day (Sunday) Bible Study:9:30 am Worship Service: 10:30 am Fellowship Meal: 12:20 pm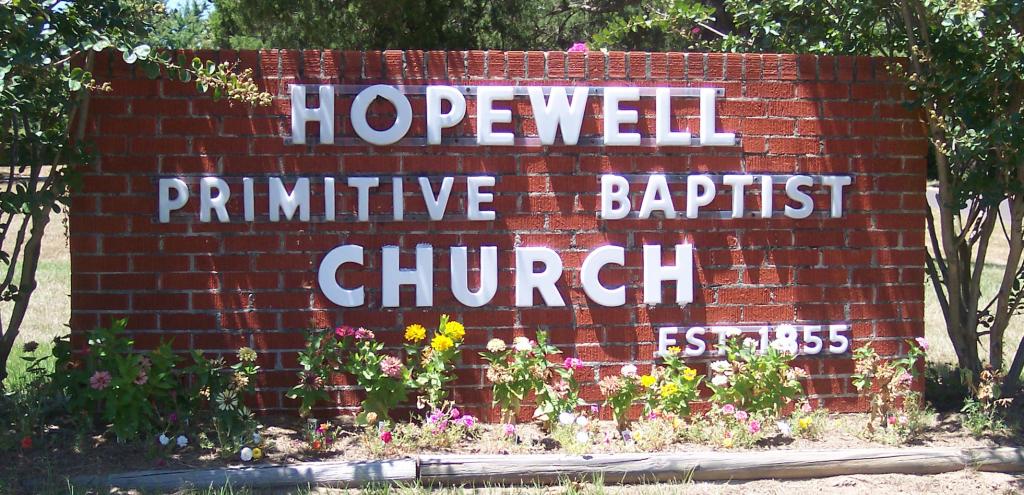 Elders Brother Jimmy Hamrick and Brother Thomas Brooks
About Hopewell Primitive Baptist Church
Proclaiming God's Free and Sovereign Grace! "NOT UNTO US, O LORD, NOT UNTO US, BUT UNTO THY NAME GIVE GLORY, FOR THY MERCY, AND FOR THY TRUTH'S SAKE." PSALM 115:1
Denomination / Affiliation:
Baptist
Service and Sermon Style:
Verse-by-Verse Teaching
Primary Language:
English
BELIEFS
Our church is Primitive Baptist. What does that mean? Primitive means "original". We follow the doctrines, patterns, commands, and examples of the primitive, or original, church as established in the New Testament. We do not believe in adding to or taking away from the teachings of the Bible. We are Baptist because we believe that upon one's conversion experience, and profession of faith in Jesus Christ as Savior and Lord, in obedience to the Scriptures a believer is to be baptized by full immersion in water. Our final authority in all matters of faith and life is the Holy Word of God. To express our beliefs we subscribe to the Philadelphia Baptist Confession of Faith. Our Baptist forefathers in the early 1800s were faced with major problems of new doctrines and practices being introduced to Baptists that were not found in Scripture, nor were they practiced by historic Baptists. To ensure doctrinal purity and maintain the Old Paths of church order and practice, as established by Jesus Christ and his Apostles, Baptists gathered to identify the new errors and address them in the light of God's Word. Two of the documents that came forth, The Black Rock Address and The Kehukee Declaration, proved the errors of the new practices while declaring Biblical truth. These documents are a further expression of our commitment to Biblical truth and doctrinal purity within our Congregation.
Primary Bible Version Used:
King James Version
Eternal Security:
No, Can't Lose
MAP
Hopewell Primitive Baptist Church is a Baptist Church located in Zip Code 75494.