Church Profile
635 North Main Street
Tooele, UT 84074
United States

10:00am Sunday Worship Service 6:00pm-8:00pm Bible Study (2nd & 4th Sunday Evenings)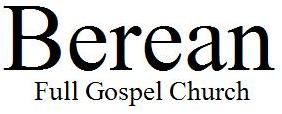 Our Mission
Creating an assembly where Christians can be fed the word of God and trained to be spiritual warriors in the Spiritual battles we all face. We believe the gifts of the Holy Spirit and physical healing are for today's believers. We pray for healing, according to the plan of God and his will.
About Berean Full Gospel Church
Helping equip Christians to do the work of Christ and to discern God's voice in the troubling times we live.
Average Age of Attendees:
20-30
BELIEFS
Baptism:
Older Children/adults
Eternal Security:
Yes, Can Lose
Healing and Charismatic Gifts:
Open But Cautious
MAP
Berean Full Gospel Church is a Spirit-Filled Church located in Zip Code 84074.