Church Profile
18401 N 99th Ave
Sun City, AZ 85373
United States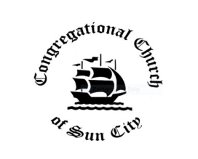 Senior Minister Rev. Dr. Brian Anderson
Our Mission
To us, fellowship is that unconditional love and concern which we show to one another, which reflects God's love for us. It is a firm belief that in a free fellowship men and women can build a strong and meaningful Church. Our fellowship seeks to strengthen personal and family life, and beyond this to join with other Christians I the work of the church universal
About Congregational Church of Sun City
Congregational Church of Sun City is a Christian church in Sun City Arizona. This National Association of Congregational church serves Maricopa County AZ
Average Age of Attendees:
60-plus
MINISTRIES AND GROUPS
Groups and Public Services
Bible Study classes on Wednesdays throughout July and August at 9 AM, taught by Dr. Brian Anderson Website address: CCSCAZ.org
BELIEFS
We covenant with the Lord and with one another, in the fellowship of this church, for the purpose of worshipping God, and in our endeavor to make His will dominant in the lives of people, especially as His will is made known to us in the life and teachings of Jesus Christ, and through the guidance of the Holy Spirit. This is a church in which you will hear Biblical sermons preached each week from our pulpit. You will have the opportunity to grow in your faith with scriptural based Bible studies. Within a Congregational Church, each member possesses freedom of belief and worship. Our church is autonomous and self governing, its programs and policy are determined by its members and implemented through voluntary cooperation.
MAP
Congregational Church of Sun City is a Christian Church located in Zip Code 85373.